Maintenance & Upgrades
On account of regular maintenance and ongoing capital investments, our power generation facilities boast high levels of availability and operational reliability. Most financial resources in 2015 went into the maintenance and upgrades of the NEK, HESS and GEN infrastructures.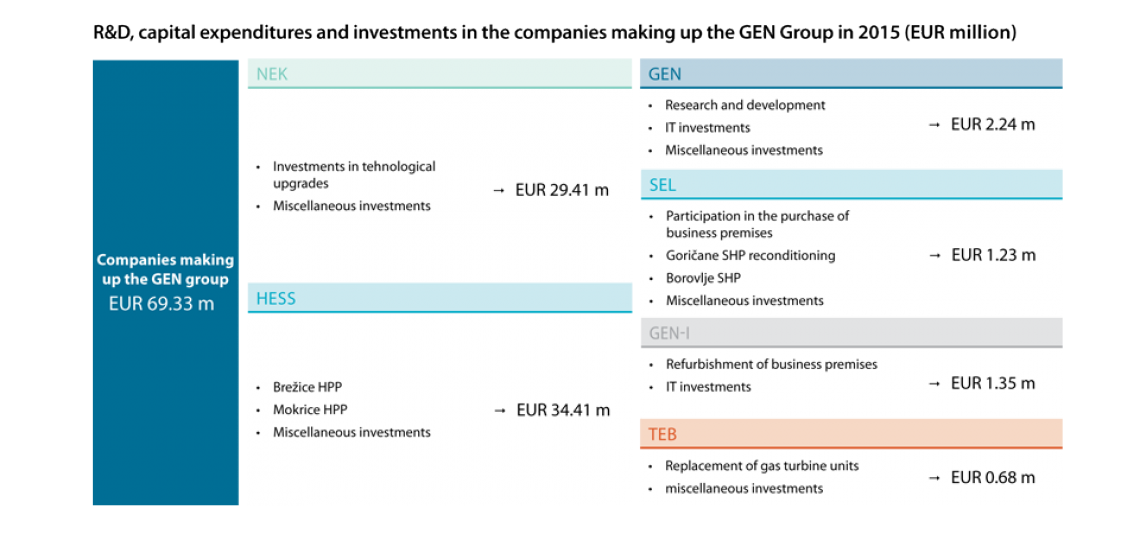 NEK
NEK makes ongoing investments in technological modernization and upgrades. NEK continued to undergo comprehensive technological modernization in 2015 in accordance with its established five-year long-term investment programme. Investments in 2015 too are based around administrative requirements and operating experience that ensure higher levels of safety and stability of the power plant's operation.
SEL
SEL consistently carries out regular major maintenance and upgrades on its power plants. An important part of SEL's investing operations in 2015 was the reconditioning of Goričane and Borovlje SHP.
HESS
HESS is currently engaged in its biggest, core project: the construction of five hydroelectric power plants (HPPs) on the lower course of the Sava River.
TEB
The maintenance of technological systems and all associated components took place at TEB in 2015 in compliance with maintenance instructions that ensure the safety, reliability and availability of the power plant. A building permit was obtained for TEB's most important and most extensive project: the replacement of gas turbine units PB 1–3.
GEN-I
GEN-I channels most of its investment and development resources into IT equipment essential to the smooth operation of trading and sales applications.