Employees
In the GEN Group, we recognize that the knowledge of our employees is at the heart of our pursuit of sustainable development across all three levels of our operations: business and operating, social, and environmental. For this reason we make ongoing efforts to provide education and training opportunities to all the employees of the GEN Group companies and to promote their professional and personal growth.
The entire Group employs 1,554 people, one-half of which hold at least a higher education or a university degree.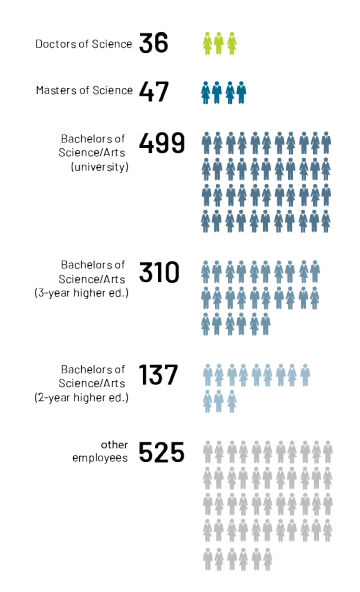 Structure of qualifications
Due to the complexity and scale of work in the GEN Group companies, more than half of the Group's employees have at least a higher education qualification. The GEN Group had 36 doctors of science, 47 masters of science and 499 bachelors of science/arts in 2021. The key areas of expertise covered by employees with Level 8 professional qualifications (Masters and Doctors of Science) are:
nuclear engineering and nuclear energy,
electrical engineering,
nuclear physics,
mechanical engineering, and
economics.
GEN's mission is being accomplished by people – employees
Whose professional, dedicated and responsible daily work contributes to our successful fulfilment of sustainable development in all the key aspects: operational efficiency, business excellence, environmental responsibility and care for the society across the GEN Group and all its constituent companies.