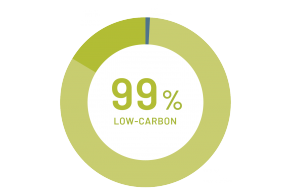 The GEN Group is committed to generating a reliable supply of electricity from sustainable and low-carbon sources. Nuclear and hydro are the two major electricity generation sources used by the GEN Group power plants.
→
Following our electricity trading and sales strategy, we are selling increasingly large amounts of electricity from our own sources thanks to our in-house knowledge and competences.
→
Nuclear energy is a key component in the country's low-carbon electricity supply, making up more than one-third of the country's overall electricity production. For this reason, the construction of a new nuclear build, JEK2, is one of the pivotal strategic development projects for the GEN Group.
→
News
Slovenia Must Focus All Its Efforts on Establishing a Self-Sufficient and Low-Carbon Electricity System
Mag. Aleksander Mervar, the CEO of ELES, dr. Tomaž Štokelj, the CEO of HSE, and dr. Dejan Paravan, the CEO of GEN Energija, are in agreement: The measures taken by the government and energy companies in order to deal with the energy crisis have worked, the situation is under control. However, these difficult conditions are by no means over. We must, collectively at all levels, continue with the measures, as well as with the efficient use of energy. But not only that: in the long term, Slovenia urgently needs investments in new low-carbon production units and renewable energy sources, as the more than 30% average import dependence that marked the year 2022 is completely unacceptable.
More...