Trading and sales
The GEN Group is a well-organized electricity trader, with cross-border wholesale trading infrastructure that gives us access to all pricing data and the information needed to ensure optimal use of production resources. To maximize the utilization of production resources and to ensure a safe, reliable and quality supply of electricity to consumers, day-ahead and intra-day electricity trades were introduced in 2008. In 2021, the Group, working with GEN Control Centre, continued selling excess electricity and buying electricity to make up for shortfalls as and when needed.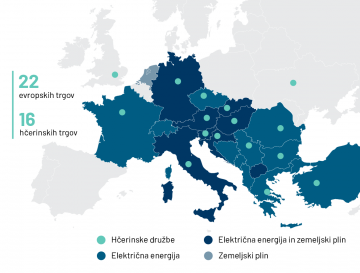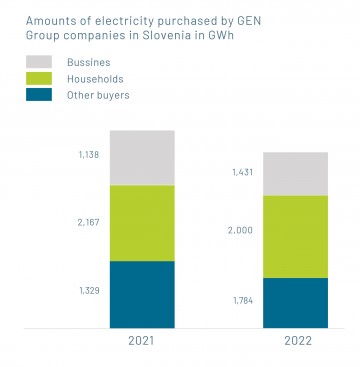 Within the Group, electricity trading and sales in the home and foreign markets is in the domain of the company GEN-I . The company's core activities are international electricity trading, electricity sales to consumers, and the associated purchasing of electricity from producers. Its most important buyers' markets, and seller's markets at the same time, are Germany, Austria, Hungary, Italy and Slovenia, followed by Macedonia, Greece and Turkey. Expansion into foreign markets is based around GEN-I Group's subsidiaries, which possess all the required authorizations, competences to adapt to distinctive local circumstances, and the required trading infrastructure.
48,685 GWh of electricity was available for trading in 2021.